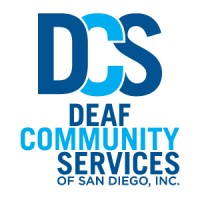 The Deaf Community Services of San Diego (DCS) announces to the community that it has engaged Innivee Strategies, Inc., an organizational and leadership development consulting firm, to strengthen DCS' relationship with the community and seek a new Executive Director to lead the organization. Through this restorative justice approach, DCS aims to work collaboratively with its stakeholders to repair past harms, acknowledge accountability, and ultimately transform its services and programs in a way that unites DCS and the San Diego community in building a better future, together.
"DCS reached out to Innivee Strategies, Inc. to find out how our organization can develop a mutually beneficial relationship between our organization and the community we serve," said Doug Sampson, DCS Board President. "As a part of our commitment to putting our community at the center of our work, we also seek a transformational leader who will guide our team toward a future where the San Diego Deaf community and DCS thrive, together."
"Trust is integral to this process," said Shane Feldman, CEO of Innivee Strategies. "We look forward to building this trust with and between Deaf Community Services of San Diego and their community members throughout the organizational healing process, as well as incorporating the community's input into the search for DCS' next leader."
Organizational Healing
Innivee Strategies, Inc. will lead DCS through an organizational healing facilitation process from May through June 2021. This process has been intentionally designed to engage the San Diego Deaf community in recognizing and confronting current and past challenges and how these challenges may be connected and/or intertwined. Through this process, the DCS, and the broader San Diego Deaf community, can commit and engage in the work of repairing practices, routines, and structures in the face of disruption and strengthening organizational functioning through social relationships and introspective practices both personally and professionally on an ongoing basis.
Through healing consulting services, Innivee Strategies will seek to understand organizational decisions and practices that may have hurt others, while simultaneously aspiring to identify ways the organization can provide tools to remedy these harms. These tools will provide a foundation that encourages evolvement and the persistent pursuit of its ideals and objectives that center around practices of inclusion. This will reinforce the ongoing process of individual and collective healing within the organization and community. Central to organizational healing – in addition to recovery, resilience, and coping – are the processes and mechanisms that enable organizational resilience and growth.
There will be multiple facilitated sessions with the community, board, staff, members of the BIPOC community, and other stakeholders. The first organizational healing session and registration link will be announced soon.
Community members are encouraged to monitor DCS' and Innivee Strategies' websites and social media for additional organizational healing sessions through June 2021.
Executive Search
Innivee Strategies provides executive search services for leaders with an area of specialization on C-level and executive-level talent in the Deaf and hard of hearing community. Recruiting any executive candidates is a challenge, particularly in markets that seek specific skills and knowledge that match a unique community's needs. Immediately after the organizational healing, this search process will incorporate dynamics and developments from the organizational healing facilitation. 
DCS Executive Director Timeline:
Launch Search – July 2021

Leader profile & prospectus – August 2021

Recruitment – September 2021

Interviews and finalist process – October-November 2021

Executive transition – December 2021
 Innivee Strategies, Inc. will work closely with DCS to engage the community through focus groups and surveys, giving them the opportunity to define the Executive Director leader profile that will be used to determine the candidate that is ultimately chosen for this important role.
Innivee Strategies Consultants
Shane Feldman
Lead Consultant
Image description:
Shane is a bald white man with a dark, black beard leans slightly and smiles at the camera. He is wearing a dark suit jacket, collared blue shirt, and a tie with brown, gray, and light blue box patterns.
Shane Feldman is the CEO of Innivee Strategies. He has over fifteen years of exceptional and invigorating leadership that has impacted many national and local organizations along with their stakeholders. As a nonprofit executive, he aligned associations to the expectations of their boards and members. These achievements came through systemic changes to policies, processes, and practices that resulted in significant increases in visibility, efficiency, revenues, accountability, and influence. Shane received his Master's in Management and Certificate in Nonprofit Financial Management from the University of Maryland University College and was selected to the Diversity Executive Leadership Program in the American Society of Association Executives.
Brandon L. Ruiz-Williams
Organizational Healing Consultant
Image description:
Brandon is a light-skinned Black Deaf male with black hair. He has on a light blue collar shirt and behind him is a black wall.
Brandon L. Ruiz-Williams (prefers to be called BL Williams) is a Program Coordinator of the Student Life Team at the National Technical Institute of Technology (NTID) located at the Rochester Institute of Technology (RIT) and was the co-director of the Youth Empowerment Summit (Y.E.S!), a program designed for Black Deaf Youth under the National Black Deaf Advocates (NBDA).  Brandon has a B.A. in Social Work from Gallaudet University and is currently in the process of obtaining his Master's in Service Leadership & Innovation from RIT. He has 11 years of experience as a presenter/trainer on Diversity, Inclusion, and Social Justice.
Liam Esposito
Organizational Healing Consultant
Image description:
Liam is a white deaf transman with short strawberry blonde hair and black geometric glasses. He is wearing a navy sweater and behind him is a brick wall.

Liam Esposito has been an educator for 20+ years, serving  Deaf, Hard of Hearing, and Hearing students. He is a Senior Lecturer at the Rochester Institute of Technology and was the Executive Director at Deaf IGNITE. Liam has a B.S. in Professional & Technical Communication from the Rochester Institute of Technology (RIT). M.S. in Secondary Education for the Deaf and Hard of Hearing from RIT. He has presented and facilitated multiple dialogues on organizational healing and racial equity.
Dr. Onudeah Nicolarakis
Leader Profile Development Facilitator
Image description:
(NEED TO ADD)
Dr. Onudeah "Oni" Nicolarakis has been an educator for 14 years, serving  Deaf, Hard of Hearing, and Hearing students using American Sign Language (ASL) and English bilingual methodologies. Dr. Oni has a B.A. in Early Childhood Education, M.A. in Deaf Education from Gallaudet University, and Ph.D. in Physical Disabilities from Teachers College, Columbia University in New York City. She has presented and facilitated multiple dialogues on race & disability.
Kathryn Canfield
SHRM-Certified Human Resources Consultant
Image description:
Kathryn is a light-skinned white woman with glasses and brown curly hair. Wearing a red top with a black cardigan, she is smiling at the camera with her arms crossed with a tree behind her.
Kathryn (Katie) Canfield, SHRM-CP, is the owner of Canfield HR Consulting, LLC. She has 20 years of work experience in K-12, Higher Education, and Non-profit settings. Katie received a B.A. in Government from Gallaudet University and M.P.A. with a specialization in Human Resources Management from National University. In 2018, she obtained her certification from Society for Human Resources Management (SHRM) as a Certified Professional (CP). In addition to SHRM, she is also a member of the Norcal SHRM chapter and Deaf Human Resources Professionals (DHRP). Katie is passionate about ensuring that HR is accessible for all employees while maximizing the employee experience in the workplace.
About Deaf Community Services of San Diego
Deaf Community Services of San Diego (DCS)  is an "…of, by, and for Deaf and Hard-of-Hearing" agency. DCS's mission centers on meeting the social, economic, educational, and behavioral health needs of the Deaf and Hard of Hearing, DeafBlind, and Late Deafened Community.
About Innivee Strategies, Inc.
Innivee Strategies, Inc. provides organizations with systemic frameworks that enable them to build a strong strategic decision toward their desired vision. We engage leaders and stakeholders in collaborating together to choose the best governance model, set leadership, staff, and volunteer expectations, align and optimize resources, and manage change. Innivee Strategies is a leading search firm in the recruitment and placement of executives and leaders of organizations that serve the Deaf and hard of hearing community. Our services also include Effective Governance, Organizational Assessment, Strategic Planning, Change Management, Executive Support Systems, Leadership Development, and Guided Facilitation. Please visit our website at www.innivee.com to learn about our clients and their testimonies about how our services have benefited their organizations.